ABOUT THE LIBRARY
The Alhambra Library welcomes over 500,000 visitors each year and provides learning opportunities, dynamic programming, and educational resources for all ages. The Library is committed to providing the best possible service to the vibrant, diverse community of Alhambra.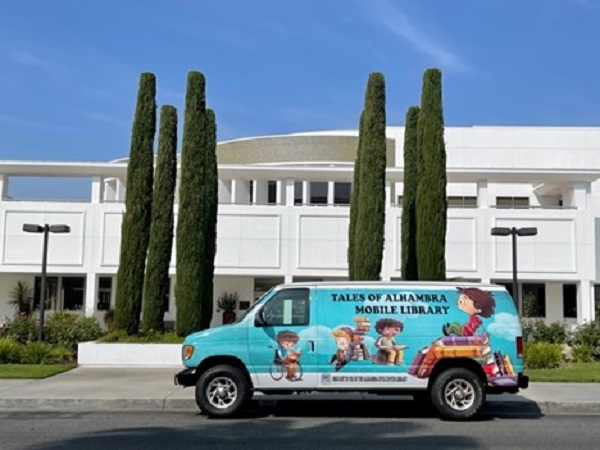 The current Library building opened in 2008. It is over 45,000 square feet and houses over 200,000 items in English, Spanish, Chinese, and Vietnamese. The First Floor houses the children's room, teen room, adult fiction and audiobooks, the community languages collection, as well as newspapers and magazines. The Second Floor houses adult non-fiction, the microfilm collection, study rooms, and the Friends Book Store 
The Tales of Alhambra Mobile Library launched in 2021 and makes regular visits to parks, schools, and other locations throughout Alhambra. You can register for a library card, check out materials, and pick up programming and activity kits at any Mobile Library visit. Check out our events calendar for updates about mobile library visits.  
LIBRARY MISSION STATEMENT
A basic municipal service, the Library Department provides current information, formal education support, independent learning opportunities and life enrichment materials to a highly diverse public in a warm and welcoming atmosphere through a highly trained team of individuals committed to quality service.
BOARD OF LIBRARY TRUSTEES
The Board of Library Trustees consists of 5 members, one appointed by each member of the City Council. 
The Board meets on the second Tuesday of the month at 6:00pm in the Library Board Room, located on the Second Floor of the Library. 
LIBRARY POLICIES
All Library Policies are approved by the Library Board of Trustees. The Library Behavior Policy is codified in the Alhambra Municipal Code, § 2.32.080