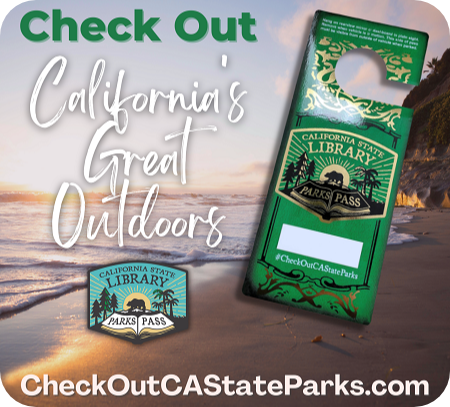 PARKS PASS PROGRAM
The Alhambra Library has partnered with the California State Library in offering our library cardholders free vehicle day-use passes to over 200 participating state park units operated by the California State Park.
The Parks Pass:
Is available to check out with a valid Alhambra Library card - 1 pass per card user only.
Is valid for 10 days from the time of checkout.
Is not renewable. When the pass is returned, patrons may check it out again if it is available, otherwise a hold can be placed on one.
Incurs a late fine of $1.00 per day.
Can be placed on hold if all passes are checked out. Place a hold using your account in the Library Catalog. Or visit a Help Desk to place a hold or call (626) 570-3212. Held passes remain on the Hold Shelf for a maximum of 2 days.
Is valid for entry of one passenger vehicle with capacity of nine people or fewer or one highway-licensed motorcycle.
Is to be returned to the Alhambra Library Check Out Desk (Overdue passes will be deactivated and replacement charges will apply.)
Detailed information on the California State Library Parks Pass Program, including full terms and conditions and a list of eligible parks, is available online at CheckOutCAStateParks.com.